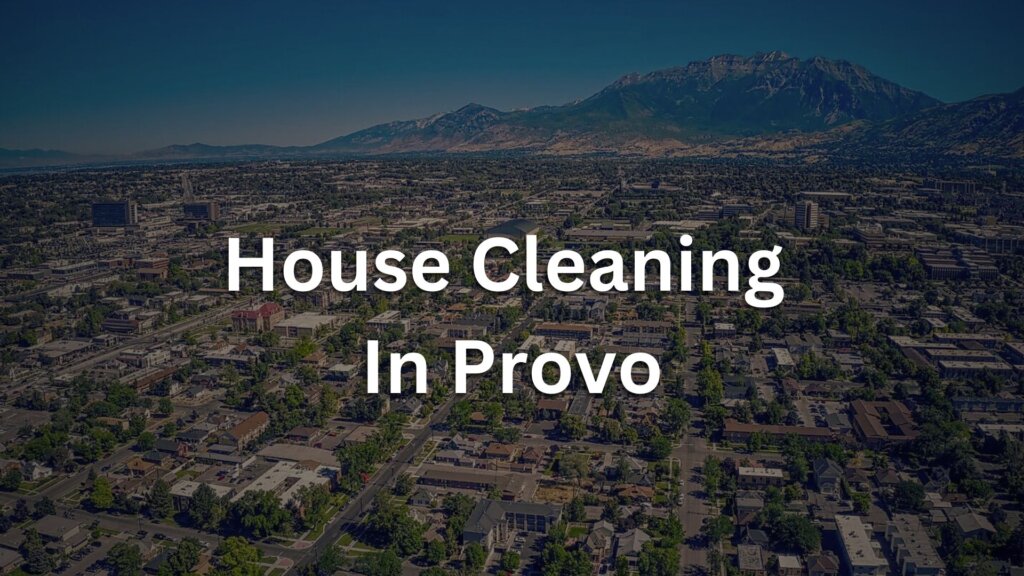 Provo's House Cleaning Industry
In Provo, as in many cities across the U.S., the house cleaning industry is thriving. As residents balance work, family, and social commitments, the demand for professional cleaning services has grown substantially. The industry in Provo is diverse, with companies ranging from small, family-owned businesses to larger franchises.
A trend of note in the Provo house cleaning industry is a move toward more environmentally friendly practices, with several cleaning services advertising green cleaning products and methods. This aligns with Provo's reputation as a city with strong community values and a focus on sustainable living.
The industry is also characterized by its dedication to customer service, with cleaning services often going above and beyond to meet the specific needs of their clients. This is facilitated by the adaptability of these services, offering options from regularly scheduled cleanings to one-time deep cleans.
In a competitive market like Provo, where quality and reliability are key, the house cleaning industry has adapted to meet consumer expectations. This dynamism positions the house cleaning industry as essential to Provo's local economy and service sector.
Professional House Cleaning Services Providers In Provo
Professional cleaning services bring multiple advantages that significantly outweigh the cost. Firstly, they save valuable time – homeowners can focus on work, and family, or simply relax while professionals handle the cleaning. Secondly, these services have the skills and equipment to clean more effectively and thoroughly than most individuals could do themselves. Professional cleaners make homes feel more comfortable and sanitary, from deep-cleaning carpets to ensuring the bathroom sparkles.
Another advantage is the frequency and flexibility of professional cleaning services. Whether you need a one-time deep clean or regular scheduled maintenance, these services can adapt to your needs. This level of convenience is unparalleled.
Introducing Bubble it cleaning, a family-owned provider in the Provo cleaning services sector. We offer top-tier professional cleaning services across most cities in Utah County, including Provo. With a team of highly trained, efficient, and reliable cleaners, Bubble it cleaning ensures your home is sparkling clean every time. Our commitment to customer satisfaction, coupled with our comprehensive service range, makes us the go-to choice for all your house cleaning needs.
Understanding Your House Needs
When choosing a house cleaning service, understanding your specific cleaning needs is paramount. This involves determining the frequency of cleaning required – do you need a weekly, bi-weekly, or monthly cleaning service? Or perhaps you're looking for a one-time deep cleaning for a special event or season?
Some homeowners may prefer more frequent cleaning of certain rooms in their homes, or they may have specific requirements for the products used due to allergies or sensitivities.
You may require a general cleaning, which involves routine tasks like vacuuming, dusting, and mopping, or you might need deep cleaning, which involves intensive cleaning tasks like removing hard water stains, washing walls, or cleaning inside appliances.
You also need to identify which areas of your house require the most attention. Are there rooms that need more frequent cleaning? Do you need specialized services like carpet or upholstery cleaning? This assessment helps you select the right service package for your home.
Bubble it cleaning : Our Cleaning Services In Provo
Now, let's talk about Bubble It Cleaning's approach. Bubble It Cleaning recognizes that every home and homeowner has unique needs. Therefore, they offer personalized cleaning plans designed to cater to your specific requirements. Whether you need comprehensive cleaning for a large family home, specialized cleaning for unique spaces, or routine cleaning for a compact apartment, Bubble It Cleaning has you covered.
Their dedicated team takes the time to understand your cleaning needs and expectations. They perform a thorough assessment of your home and discuss your preferences before customizing a cleaning plan for you. This customer-centered approach ensures that you get the cleaning service that's perfectly suited to your home, lifestyle, and budget. Trust Bubble It Cleaning to understand and meet your cleaning needs with professionalism and care.
Also, bubble it cleaning offers Memberships that provide bi-weekly cleaning to your house.
When it comes to experience, Bubble It Cleaning stands out in the Provo house cleaning industry. Our years of service in Provo and throughout Utah County have honed our skills, efficiency, and customer service. We've faced and overcome numerous cleaning challenges, which has equipped us with the ability to handle a variety of cleaning situations effectively. This level of experience ensures that we provide high-quality, reliable, and efficient cleaning services every time.
In conclusion, the experience and reputation of Bubble It Cleaning in the Provo house cleaning industry highlight our reliability, professionalism, and dedication to customer satisfaction. When you choose Bubble It Cleaning, you're choosing a service that's respected and trusted by the Provo community.